Selfie
by
Amy Lane
My rating:
5 of 5 stars
*** 5 Amy lane's feels stars ***
*Connor*
*Noah*
You know what kind of book Amy Lane's write, yeah? Either it's funny, fluffy at it's best, or sad, bitter and tear jerking.
Then what if the two of it mingled together? Yeah, I know. This is one of those book, that will ripped your heart, fluffy eyes after reading, but also has it's own 'fun' and fluffy times.
But this one, lots of grieving, sadness, the feeling about losing your half. And you know how smooth Amy with this kind of stuff.
Noah, oh bless his heart. I think he's a God gift for Connor after losing Vinnie, his closeted boyfriend's died. Connor was broken before he came to the movie location, then he found Noah, intruding into his life just like that. And Connor let him.
That was the best decision he made, to let Noah
'in'
.
""You'll never be just my healing guy," I said after a moment. "You are . . . so much more than that.""
Usually, I found a prolonged grieving is annoying, but it's a different case with Connor. He can't moved on completely after Vinnie, he keep on talking to Vinnie's ghost, until one day, one moment of truth taught him, to choose. And I was glad he chosen wisely this time.
""Connor?" I looked at him. "What?"
"I'll love you if you can't."
"Can't keep the promise?""Can't love me like you loved Vinnie."
That broke me. "I will," I whispered, wiping my eyes. "I already do.""
Noah's patience with his grieving is an ace, he didn't give up on Connor, and be with him all the time.
"Noah loves me. He'd been trying so hard not to say it, but I hadn't had the heart to stop him completely. And Vinnie had no answer to that. I guess there was no answer to the fact that Noah loved me weak and Vinnie couldn't love me enough, even when I was strong."
Despite of the angst, this is the sweetest story about letting go, and acceptance. and Amy nailed it again.
""What are we doing now?""I'm going to hold you—just hold you. And later, when I can quit shaking, we'll make love, and you'll remember what it feels like to live again.""
Well done, Amy.
Highly recommended !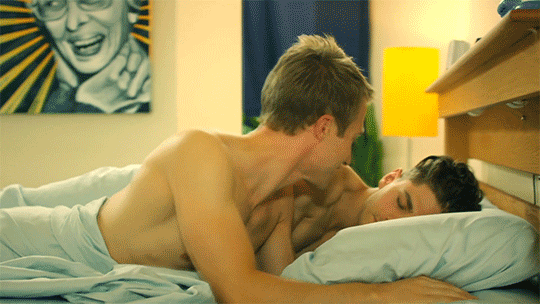 "Tomorrow I would wake up and go play somebody else, and I loved doing that—I was blessed to be doing that. But tonight, in the sweet and holy darkness, I was skin to skin with my lover, and I was myself, and I was blessed, more than blessed, to be doing that as well."
View all my reviews