Expected publication: July 13th 2016 by Dreamspinner Press
ISBN
1634774779
(ISBN13:

9781634774772

)
URL
BLURB

Xavi doesn't believe in love anymore. Love has never changed the outcome of anything. It has only hurt him.

Sam is sick, and he wants one last thing. He wants Xavi to be with him, to stay with him until the end. Xavi drops everything and promises Sam he will be there.

As they travel across the countryside in a stolen sea-green Cadillac, they search for something neither has the courage to admit he's looking for. But as the days slip away, Xavi isn't sure he can keep his promise; he isn't sure about anything. He can't help Sam do this. He can't stand by and watch Sam suffer, can't be content to let Sam give up.

Saving Sam becomes the only thing that makes any sense, the only thing Xavi wants. Loving Sam becomes the most important promise he will ever make. Now he just has to convince Sam that life—and love—are worth fighting for.

*** FIVE STARS!***
We are the field of wildflowers, we are the sky, we are the sea, we are this moment, and this moment is ours. And it always will be.
* A beautiful heartbreaking story*
I have always admire Suki Fleet to make me feels.
Just like when I read her other book like "This is Not a Love Story", this one's also poetic and bitter, yet romantic with its own way.
This is almost feels like how true love is supposed to be.#, with Xavi and Sam.
To be honest, usually what Xavi did in his denial that night was a deal breaker for me. But I can see he's so confused about his feeling for Sam.
He wanted Sam, but he didn't want Sam, but he can't stop thinking about Sam and be there for him when Sam needed him the most.
People makes mistakes, Xavi made mistake that night. Good thing is, he didn't finish it and he did regret right after that, and gave everything he can to make it better with Sam.
He did.
I loved what he did, he didn't just stay for Sam, but determined to make Sam have a strength to live again. Because he didn't want Sam to die.
You can't make someone love you or save them from falling hopelessly, uselessly apart, and you can't stop them from dying. Each and every one of us is accountable for ourselves alone.
I loved how this story ended.
They have their HFN, and still working on Sam's health. For me, that's a win-win.
There were some tears, anger, sadness, but there are also some erotic moments between the two MCs.
If you're just let Xavi's mistake go and forgive him, this one has a lot for a short story.
I really enjoyed the story, and if you miss This is Not a Love Story, this one will fulfill your need.
He searches my face with eyes so dark and so fucking full of trust, even though he has no reason to ever trust me again. Even though I've deserted him, broken promises, rejected him, and betrayed his feelings with a fucking stranger. I close my eyes against the sudden spill of my tears.
Recommended !
Sometimes stories are all we have left. We carry so many of them hidden in the cage of our bodies, written like secrets on the map of our skin. Most of us more scarred than tattooed : the walking wounded, afraid of how our story ends. Some of us find comfort in make-believe, as if the truth there is somehow easier to believe than our own.
* ARC was given by Publisher for a fair and an unbiased review *
ABOUT THE AUTHOR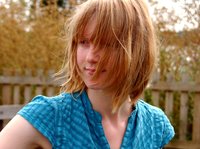 Suki Fleet's first novel This is Not a Love Story won Best Gay Debut in the 2014 Rainbow Awards, and was a finalist in the 2015 Lambda Awards.