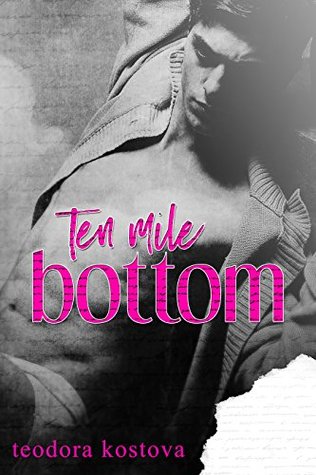 Hitting rock bottom is just the beginning...

I'm a son, a brother, a friend.
A writer.
An addict.
Dead.
Cardiac arrest isn't enough to keep me dead, though. The doctors brought me back, but for what?

At twenty four I've already achieved what most people do in a life time. I'm a successful author, own a flat in the heart of London and drive my dream sports car.
Or at least that's what people see.
Once the spotlight fades, I'm left alone with my overactive mind, alcohol and drugs the only way to quiet down the noise.
Until an overdose nearly kills me and drags everyone I love down with me.
With the help of my best friend, I leave London and its toxic influence behind, moving to a small town in the outskirts of Cambridge to try and put my life back together again.

If only it were that easy.
Ten Mile Bottom
by
Teodora Kostova
My rating:
4 of 5 stars
I dealt with some addict in my life and I know how hard to stop it before it's too late.
This is a very sensitive issue and I was glad I received the ARC from the author to read and review this.
I like friends to lovers story, as much as I like enemies to lovers.I liked that this story took place in England, one of my favorite country in the world. And I adore the idyllic countryside even more.
So yeah, I enjoyed this book and loving Finn and Ben's dynamic while enjoying the small village life.
My only complain is Finn's Mother, oh I hate that kind of mother, both in fiction and in real life. It's just, too much!
I liked the slow development of Ben and Finn's relationship(not too slow which I am grateful, LOL), and how they're nurturing the pain and be there for each other.
I loved Ben, and how easy he was with Finn and dealing with Finn's problem, and I loved how Finn was there for Ben when he needed Finn. Ben is my favorite, he's easy to love and he's insecurity and vulnerability made me wanted to wrap him in a blanket and momma bear-ing him :)
If you're a fan of this author and especially, a friends to lovers, and cuddly boyfriend Ben, I think this one is for you.
View all my reviews