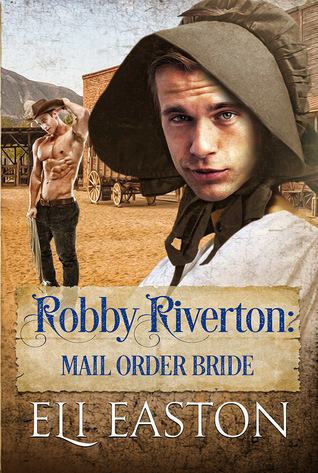 Being a fugitive in the old west shouldn't be this much fun.

The year is 1860. Robby Riverton is a rising star on the New York stage. But he witnesses a murder by a famous crime boss and is forced to go on the run--all the way to Santa Fe. When he still hasn't ditched his pursuers, he disguises himself as a mail order bride he meets on the wagon train. Caught between gangsters that want to kill him, and the crazy, uncouth family of his "intended", Robby's only ally is a lazy sheriff who sees exactly who Robby is -- and can't resist him.

Trace Crabtree took the job as sheriff of Flat Bottom because there was never a thing going on. And then Robby Riverton showed up. Disguised as a woman. And betrothed to Trace's brother. If that wasn't complication enough, Trace had to find the man as appealing as blueberry pie. He urges Robby to stay undercover until the danger has passed. But a few weeks of having Robby-Rowena at the ranch, and the Crabtree family will never be the same again.

Damn, what a kerfuffle. If only Trace can get rid of the fugitive while hanging on to his own stupid heart.
Robby Riverton: Mail Order Bride
by
Eli Easton
My rating:
5 of 5 stars
I loved ALL the Crabtree family! I adore this book, it's heart warming, funny, sexy, and so much fun! Oh, did I mentioned FUN? :P
OMG where to begin?
First time I saw the cover, and the title, I was confused. I mean,
bride?
. Come on, I do groom, not bride! But then, hey! It's
Eli Easton
and the
'bride'
look a bit handsome. LOL!
So yeah, knowing this is going to be fun, I requested the ARC for this one.
I was so freaking happy! This book is a gem. I had fun, I laugh, I blush, I cheered, I cried even.
You have no idea how much I loved the Crabtrees, and Pa-Pa is my favorite (Shh...Pa-Pa sounds like my Papa, hahahahha).
I loved everything about this book. I felt like, I was in the wild wild west world, with a lazy Sherriff who's just sitting around, had a nap, and bored. It was just like that a life of Trace Crabtree
'before Robby Riverton'
. Boring.
Then enter Robby (Rowena) Riverton to his life, and life is never be the same again.
It was lust at first sight, the moment Trace stared at Robby's green eyes, and when Robby looking up to the sky, Trace Crabtree's coming undone!
People of Flat Bottom (don't laugh!) thought that living with the Crabtrees is going to be a hell and difficult for Robby (Rowena), but who knows that living with Robby is really something else!
As Rowena, Robby really wrap them around his fingers easily, even Pa-Pa the cheapest person in the world cannot rejected the urge to be 'better' and more 'civilized' around Rowena.
Rowena/Robby charmed the whole family, including he's supposed to be groom, Clovis.
Trace who's cannot stand living with his family and out since a year ago, all of a sudden came living there again.
Well, he have to 'protect' Miss Rowena as a Sherriff, right? The whole family smelling something, but yeah, again, Rowena made sure there's 'nothing's going on between them.
Until the bad guys came, and the whole family finally realized who Rowena is.
There's when I become to adore this family more. When Pa-Pa says family, it means family, and Robby is part of the family. You know what I mean?
This is a really enjoyable story, and I coulnd't recommend you enough to read this.
And for Eli Easton's fan? Guys....
View all my reviews