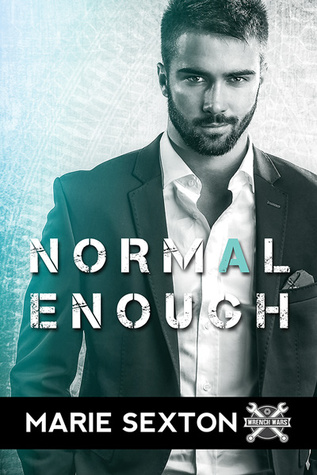 Normal Enough
by
Marie Sexton
My rating:
3 of 5 stars
BLURB
What is "normal"?

When Brandon Kenner shows up at Kasey Ralston's garage with a 1970 Chevelle SS 454, Kasey is smitten by both the man and his car. But Kasey is hiding an embarrassing secret: his love for old muscles goes beyond what most would consider normal. His unusual fetish has kept Kasey isolated—estranged from his family and even distant from his coworkers.

But when Brandon figures out the hot mechanic's secret, he's not repulsed. In fact, he finds Kasey intriguing, and he's determined to have him for himself.

Everything about Brandon revs Kasey's engine, and he's more than willing to get down and dirty with the charming man. What worries Kasey is what will happen after. Is there any chance of a future for them? In the past, expecting anything long-term has only led to heartbreak. But Kasey can't help hoping that, despite Kasey's fetish, Brandon will be the exception.


First Edition published by Amber Quill Press, 2013.
Second Edition published by Amber Allure, 2014
REVIEW
All of the kinks books I have ever read, this one is the stranger. I mean, turn on over a car? You tell me! LOL
But I'm glad I read this book. This is somehow sweet, fluffy, love/lust at first sight.
I'm glad Kasey is finally found someone who understood about his kink and has a kink of a guy with a kink. Look at Brandon's exes...he was made for Kasey for sure.
But again, this story is too short and I'm a sucker for an epilogue. I felt uncertain about their future together.
Anyway, this is fun and enjoyable read for me. Not a stellar one, but at some point, entertaining.
* Review Copy provided by Dreamspinner Press in exchange for an honest review. Reviewed by Lilly from Lelyana's Book Blog. *
View all my reviews