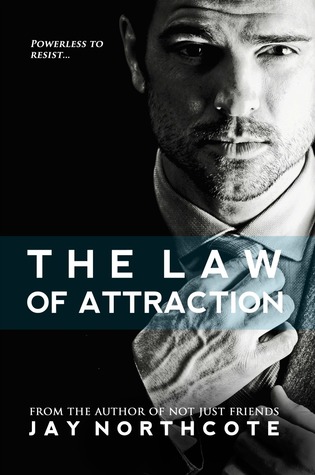 BLURB
When a professional relationship turns personal, it's impossible to resist the law of attraction.

Alec Rowland is a high-flying lawyer in a London firm whose career is his life. He doesn't have time for relationships and his sexuality is a closely guarded secret. After picking up a cute guy on a Friday night, Alec's world is rocked to its foundations when his one night stand shows up in the office on Monday morning—as the new temp on his team.

Ed Piper is desperate to prove himself in his new job. The last thing he needs is to be distracted by a crush on his boss. It's hard to ignore the attraction he feels, even though Alec's a difficult bastard to work for.

Both men strive to maintain a professional relationship, but tempers fray, passions ignite, and soon they're both falling hard and fast. If they're ever going to find a way to be together, Alec needs to be honest about who he really is because Ed won't go back in the closet for anyone.

Length: 62,000 words approx
Book info
Kindle Edition
,
173 pages
Expected publication: February 5th 2016 by Jaybird Press
Buy links
REVIEW
I have a weakness for office romances, and I have weakness with green eyes and guys with tie, and office affairs between two men.
And look at
'that gorgeous cover !
, I'm sold !
Well, Jay fulfilled my craving for a sweet low angst office romance real good.
The book started with sex between strangers. I usually not very fond of this kind of encounters, but, Jay executed it really well. And the morning after, the walk of shame, the coldness in the morning. Well, strangers. What would you expected from that anyway?
Except, Ed Piper is not an ordinary stranger. He appeared in the office, as a new member of Alec's team. Ha !
But Alec is not out. He's deep in the closet for some reasons.
So, awkward.
And quite painful for an out and proud Ed.
"When I let you pick me up in that bar, I didn't know you were going to be my new boss. And believe me, if I'd known what a controlling arsehole you are, I'd have run a mile before I'd have let your cock anywhere near me!""
The journey of Alec's inside battle with himself is very interesting. I liked it a lot, because he's not jump into decision right away to come out, takes time for him to make him accepted himself as a gay man. was it because of Ed? Partly, yes. But mostly, because he's tired of hiding for too many years.
I liked Ed's family so much. And the twins ! The innocent comments made me smile.
And the 'conflict' with Alec's family, not overly dramatic, just what I liked it to be.
I loved the ending, somehow, it's reasonable, James make it easier for Alec to tell his friends he has a relationship with Ed (Oh, James called shagging ! Hilarious guy!).
This is a very fun, sweet read which I liked from Jay. Couldn't ask for better ending for Alex and Ed!
One of my favorite from this author.
Recommended!
ABOUT THE AUTHOR
Jay lives just outside Bristol in the West of England, with her husband, two children, and two cats. She comes from a family of writers, but she always used to believe that the gene for fiction writing had passed her by. She spent years only ever writing emails, articles, or website content.

One day, she decided to try and write a short story—just to see if she could—and found it rather addictive. She hasn't stopped writing since.

Jay writes contemporary gay romance about men who fall in love with other men, usually set in or near her home town of Bristol. She enjoys the challenge of bringing the men in her head to life through her words. Jay has five books published by Dreamspinner Press, and she also publishes her own titles under the imprint Jaybird Press. Some of her books are now available as audiobooks.