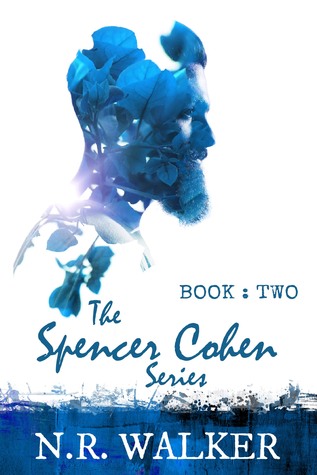 BLURB
Finally going from fake-boyfriends to the real thing, Spencer Cohen and Andrew Landon are trying to take things slow. They know what they have could be something special and despite the flammable sexual tension, they don't want to crash and burn.

Spencer is learning to open up, sharing the secrets of his past with Andrew. Afraid to put his heart on the line, yet seemingly unable to stop it, Spencer knows he's falling in love with him. Andrew is petrified of leaping in blindly, yet it seems the slower they go, the faster they fall.

As they navigate their new relationship, Spencer worries Andrew will freak out when he takes on a new client. But it's not a normal case and Spencer soon realises things are not what they seem. When things take a downward turn and they work together to help the client, Spencer and Andrew need to decide if they're ready for the next step.
REVIEW
* Five adorable not too shy Andrew stars !*
As Nic said in the group earlier, this book is definitely need some serious amount of tissues. Not for tears. Nah.
But Nic was wrong. There were tears, at least, for a hopeless romantic like me, one small moment of truth can be really meaningful. And Nic really good on that.
You know, small, but big thing for some people. Like, you hated being not to talk to, or ignored. Things like that can make me cry.
I loved to see the development of Spencer and Andrew's relationship. They're growing stronger, and Spencer couldn't resist the sexy geek charm, for not to fall hard for them.
But love was never an easy thing for Spencer, considering his past.
And there's also some scenes that pulled my heart into sadness, for what Spencer feels and craved.
And Andrew, oh bless that guy, he's a God send from heaven for my Spencer !
I loved Andrew's parents, you'll adore them too, guaranteed.
And the things with Spencer's client? All I can say, it didn't turn up like I thought what it would be before, phew ! And I'm glad Spencer and Andrew (mostly Andrew and his parents) did some awesome job to solve the problem.
Oh, did I mentioned tissues before? Grins.
Well, it's about time they're doing 'that', right> Like four or five times of sexy times...you know what I mean? Read it, you'll blush like me too :)
Overall, the second installment is a good read, Spencer Cohen is addictive read, and Andrew and Spencer will stay with me for a very long time.
Highly recommended, for people who's seek for a good romantic moment without too much twist.
About the author
N.R. Walker is an Australian author, who loves her genre of gay romance. She loves writing and spends far too much time doing it, but wouldn't have it any other way. She is many things: a mother, a wife, a sister, a writer. She has pretty, pretty boys who live in her head, who don't let her sleep at night unless she gives them life with words. She likes it when they do dirty, dirty things… but likes it even more when they fall in love. She used to think having people in her head talking to her was weird, until one day she happened across other writers who told her it was normal. She's been writing ever since…