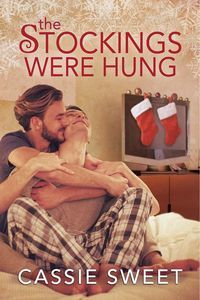 Hill hates Christmas.

The shoppers. The cheer. The drama. All of it.

Each holiday season is a painful reminder that seven years before, his lover, Drew, walked out of his life and moved across the country, leaving Hill like a cup of rotten eggnog. Now Drew is back and wants Hill to put a little jingle in his bells. Well, not this Scrooge.

Drew admits he moved to get away from Hill—but not for the reasons Drew gave him all those years ago. Some of his best memories are of Christmases he celebrated with Hill, and he wants nothing more than to spend a little holly jolly with the only man he's ever loved. However, getting Hill to agree to a reunion is going to take a Christmas miracle.
The Stockings Were Hung
by
Cassie Sweet
My rating:
2 of 5 stars
This is not what I expected my Christmas story feels like.
A stupid decision for leaving you spouse for seven years because you didn't now about the word
'communication'
??? Lame.
To me, Hill was weak, and Drew was just a selfish asshole. Can't he just let Hill know what he felt about their relationship instead of 'missing'?
And came to Hill, again, and 'arrange for a best Christmas ever' and expected Hill to coming back to him? Sadly, yes.
Doh. Just because this is a holiday story and the writing is good, I was being generous about the rating. Sorry, this one didn't work for me.
* I received the ARC from Dreamspinner Press in exchange of a fair and unbiased review.*
View all my reviews