It was her special day... but his worst nightmare.

A rekindled romance wasn't part of the plan.

Despite his American background, August O'Leary is the most sought-after wedding planner in London. Naturally, Libby and Edward come to him for a wedding the city will never forget. But Edward is an international businessman, so the details are left to Libby and her best friend—who happens to be the love of August's life and the one who broke his heart eight years ago: Christopher Burke.

How's August supposed to pull off the event of the year with Christopher distracting him and old feelings crashing the party uninvited?

Christopher has let money and status dictate his life, but no more. His failure to stand up to others' expectations cost him his future with August—one he hoped would include marriage. Now he has to face August's hurt and anger and prove he's still the best man to make August happy.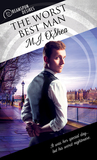 The Worst Best Man
by
M.J. O'Shea
My rating:
3 of 5 stars
Finding out that your best friend's wedding planner is your (young) love and still obsessed on, is a shock for Christopher.
Never recovered from a heartbroken he had made for himself for being coward, made him thinking about it again, reevaluate.
But you know, young love. Weak and all. What's parents said was an absolution. And Christopher was no exception. Obeyed.
But he broke his heart, no...no only his , but August's as well.
I liked the idea of a second chance love, it was cute and romantic.
But I have one complaint over it. August is too weak, I think he should be more ... I don't know, maybe gave Christopher a little hard time? He gave up too soon, but again...first love never dies , huh?
He did actually gave Christopher something to think about, in the end, and finally Christopher learned the hard way, that he must fight for August.
This is a light, fun, sweet romance. Not much twist just the way I liked it. So, this probably perfect for you. Give it a try.
* I received the ARC from dreamspinner press in exchange of an unbiased and honest review*
View all my reviews